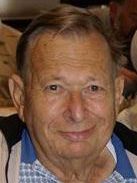 Earl W. Moats Sr.
10/14/2014
Earl W. Moats, Sr., 84, of Leola died Tuesday, October 14, 2014 at Hospice and Community Care Mt Joy. Born in West Earl Township, he was the son of the late Wilber M. and Sarah J. Spade Moats. He was the husband of Mae I. Shower Moats. They were married for 64 years. He worked in the Engineering Shop at New Holland Machine Co. for 42 years. He was the past fire chief at West Earl Fire Company. A post he held for ten years. Earl and his wife traveled throughout the USA with the Penn Coachmen. They wintered in Okeechobee FL for several years. He held a private pilot license.
Besides his wife, he is survived by: a son, Earl W. Jr. husband of Cordelia Moats of Ephrata; a daughter, Linda Moats Chaplin of Coral Springs, FL; two grandchildren Sarah Moats, Nathan Moats; three great-grandchildren, Kendell, Riley, Joel; sisters Betty Fromm of Ephrata, Carol Halligan of Shaefferstown and a brother, Glenn Moats of Lebanon. He was preceded in death by brothers, Eugene Moats, John Moats and a sister, Jane Powell.
The memorial service will be held on Saturday, October 18, 2014 at 11:00 AM at Furman Home for Funerals, 59 W. Main St, Leola, PA. Friends may call Saturday, 10:30 AM till the service at the funeral home. In lieu of flowers contributions may be made to Hospice and Community Care, PO Box 4125, Lancaster, PA 17604-4125.
---