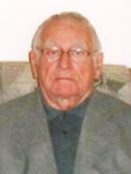 Landis E. Burkholder
4/13/2020
Landis E. Burkholder, 88, of New Holland and formerly of Denver, passed away Monday April 13th at Penn Medicine LGH after a brief stay at HCR ManorCare Lancaster.
He was the son of the late Amos Rutt Burkholder and Mary N. Martin Burkholder and the husband of Gladys Hershey Burkholder, currently residing at Garden Spot Village in New Holland.
In addition to his wife, Landis is survived by two sons, David A. Burkholder of New Holland and John H. Burkholder, husband of Gwen S. Burkholder of Columbia and a daughter, Joyce E. Martin of Coatesville and six grandchildren. Landis is also survived by his brother, Daniel M., husband of Margiann A. Burkholder of Denver and a sister Leah R. husband of Lester J. Wiker of Holtwood.
Landis retired from Woolworth Warehouse in Denver and worked part time at Weaver's Market after retirement. In previous years, he worked at New Holland Machine, Weaver's Poultry, Skyline Homes and served in 1-W during the Korean War. He also operated a small farm in Denver most of his life, which is now called "Burkholder's Ever-Green Farm" and is owned and operated by his brother Dan and his wife Margi.
Landis was an active member at Stumptown Mennonite Church for many years and appreciated the great friends in his Sunday school class.
A graveside service at Stumptown Mennonite Cemetery will be held at the convenience of the family. In lieu of flowers, donations may be made to the Stumptown Mennonite Church, 2813 Stumptown Rd., Bird in Hand, PA 17505.
---