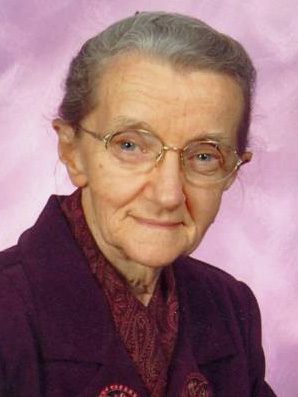 Savilla L. Zook
4/4/2018
Savilla L. Zook, 91, of Paradise, entered her heavenly home on Wednesday, April 4, 2018 after a brief illness. She was the wife of the late Jonas P. Zook and a member of the Nickel Mines Mennonite Church. She is survived by: three daughters, Kathryn wife of Robert Gingerich of Minerva, OH, Hilda Zook of Paradise, PA and Regina, wife of Timothy Yoder of Millington, MD; two sisters, Fannie King (Alvin) and Susie Kauffman (Allen); seven grandchildren and 14 great-grandchildren. She was preceded in death by her husband, an infant daughter, two great-granddaughters, three sisters and two brothers.
She is warmly remembered for her faith in the Lord Jesus Christ and the desire to live out her faith. She treasured her children, grandchildren and great-grandchildren. She was a faithful prayer warrior for her family and church. Her sense of humor and quick wit brought smiles to our faces. While she will be deeply missed, we are so happy to see her delivered from her suffering. We rejoice through our tears that she is free at last and in the presence of her Savior.
The funeral will be held Monday, April 9, 2018 at 10:30 am at Weavertown Mennonite Church, 2900 Church Rd., Bird-in-Hand, PA. Friends may call Sunday, April 8th from 5-8:00 pm and Monday 10-10:30 am at the church. In lieu of flowers contributions may be made to Christian Aid Mission, P.O. Box 9037, Charlottesville, VA 22906.
---