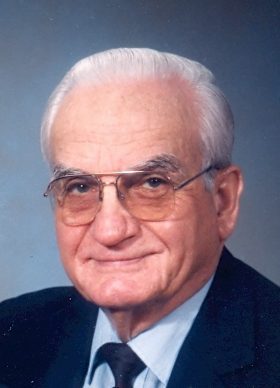 The Rev. S. Allen Shirk
10/11/2014
Rev. S. Allen Shirk, 92, of Landis Homes, passed away Saturday, October 11, 2014. Born, March 19, 1922, in New Holland, he was the son of the late Samuel S. and Lydia Stauffer Shirk. He was the husband of the late Elsie K. Groff Shirk. He was a missionary for the Mennonite Board of Missions and Charities for 12 years in India and two years in Hong Kong for Eastern Mennonite Missions. Allen then served as pastor at Emmanuel Church in Hong Kong for 20 years. In his retirement in Lancaster he continued to be very supportive and active at Mellinger Mennonite Church. He also was involved in promoting the work of Far East Broadcasting and Ambassdors for Christ. His life was one of service to His Lord along with his wife wherever God led them.

He is survived by a daughter, Sylvia Dannelley-McCree of Pecos, TX; three grandchildren, Ekutan (T.K.) of Fort Worth, TX, Nichi and husband, Eddie, of Orlando, FL, Jay Allen and wife Jenn, on mission currently in Romania. He was preceded in death by a great-granddaughter; brothers, Harold Shirk and Raymond Shirk.

The funeral will be held at West Bethany Chapel at Landis Homes 1001 E. Oregon Rd., Lititz, PA 17543 on Saturday, October 18, 2014 at 2:00 PM. Friends may call Friday, October 17, 2014 at WEST Bethany Chapel from 6-8:00 PM and Saturday from 1:00 PM until the service. Interment will be in Mellingers Mennonite Cemetery. In lieu of flowers, contributions may be made to the Caring Fund at Landis Homes at the above address.